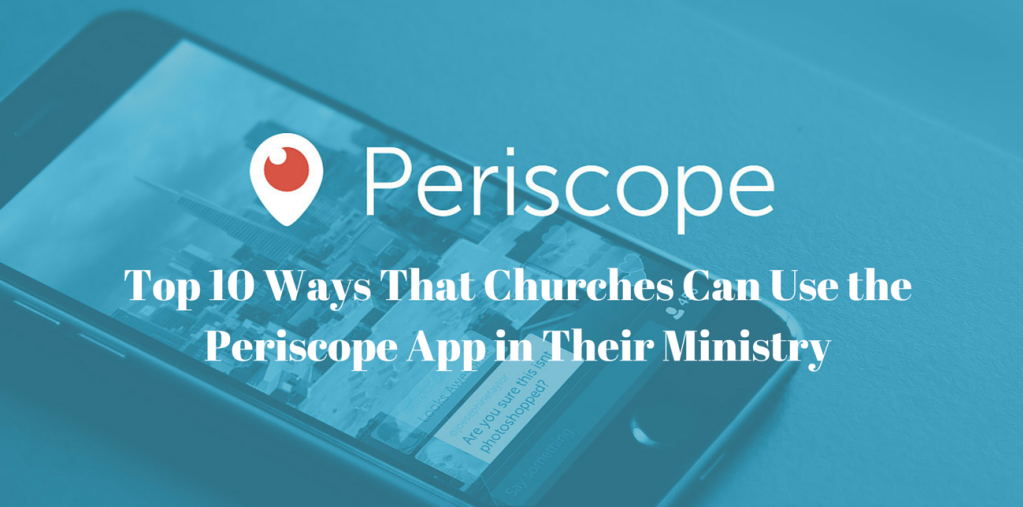 August 18, 2015
Top 15 Ways That Churches Can Use the Periscope App in Their Ministry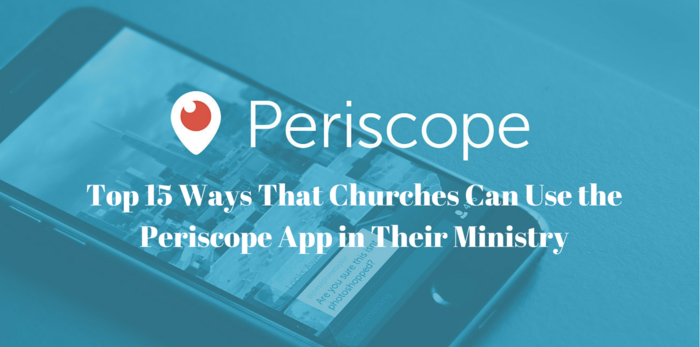 There is a hot new social media app out there that can greatly enhance your ministry's online presence. Periscope allows you to set up live video streaming from your smartphone just by pressing a button. It works with Twitter, so that your followers are notified when you start streaming. During the streaming session they can interact with you. Periscope also holds your broadcast for 24 hours so it can be viewed later.
Why Periscope?
We live in a society that is permeated with communications technology. This new type of technology has created a generation of people who are social, mobile and global. Periscope expands ways in which your ministry can connect with this kind of generation. Instead of blog posts and tweets, you can set up live video streaming, to interact with people around the world via their phones. Twitter is now the owner of this app and is actively promoting it, so being an early user could mean that your activity carries more social influence as the number of users grows.
Here's what blogger, social media expert and the author of iChurch Method, Jason Caston, said about Periscope and it's main rival, Meerkat:
Meerkat, Periscope and the newly released Facebook Mentions Live Video are the continuous steps towards an always connected, always broadcasting, always communicating audience. Right now, I believe Periscope has the advantage because of two things: 1 – they were the first to be backed by a major social platform and, 2 – its popularity skyrocketed since it was used to stream the Floyd Mayweather fight for Free. People then realized that every person with Periscope or Meerkat becomes a major live media distributor.'
If you are a ministry leader, this is a great opportunity for you to develop an online following.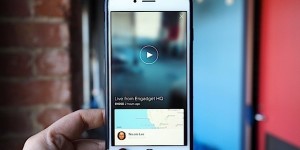 What You Can Do With Periscope:
Broadcast an insight to your ministry's work culture by videoing some random interactions with your staff.
Give a tour of your church to help newcomers feel comfortable. If you are carrying out any construction projects, you can broadcast live updates. Perry Stone gives tours of his facilities and personal updates on Periscope. See them @perrystonevoe.
Provide an early video preview of your weekend sermon (e.g. on Thursday afternoon).
Provide a video recap of the weekend services on Sunday evening.
Stream prayer devotionals and other updates. For example, Stacy Harp at Bible News Radio provides morning devotionals through Periscope. Check them out on @BibleNewsRadio.
A youth pastor can give nightly updates from a camp or service trip.
Host video Q & A sessions with your ministry's leaders or do a live session for prayer requests. For example, The American Center for Law and Justice live streams their radio shows. Host Jay Sekulow takes questions from the audience through Periscope. Catch the show on @jaysekulow.
Missionaries can give their supporters video updates on the work carried out.
Musicians can broadcast live impromptu jam sessions to their fans.
Broadcast small group leadership training sessions weekly
Show the behind-the-scenes work of volunteers who set up and take down after church services, to showcase the hard work carried out for the church.
Live stream your school's classroom activities .
Live stream ministry's children craft lessons and teachings, so parents can reinforce these at home.
Host round table discussions with entire church communities .
Connect with ministry leaders, to get their input towards important decisions.
The Periscope app makes video streaming easy and creates a whole new way to interact with people online. It is a great tool to add to your ministry's online presence. Have something to add to this story, would love to hear from you in the comment section below.
NOW WATCH: How to download, setup and go live with your Periscope App.

SEE ALSO: 4 Reasons Why a Digital Strategy Is Necessary, even in Light of Current Events
Comments