November 16, 2012
A basic guide to choosing an e-giving platform for your church

When it comes to replacing, or at least supplementing your offering plates and tithe envelopes with electronic giving portals, the possibilities are numerous. Other nonprofits, especially charities, have long experimented and are now embracing e-giving, resulting in massive fundraising campaign successes. If you're looking just for a fundraising platform, check out Mashable's top 12 online fundraising platforms for donors and nonprofits.
But most fundraising platforms are specific to one-time campaigns, and don't offer the option of receiving recurring donations. Nor are they tailored for churches. Your church needs something reliable, safe, secure, and suited to its size and demographics. If you're made up your mind that the pros of e-giving far outweigh the cons, or if you're dissatisfied with your current e-giving platform(s), are 8 common features of modern, church-targeting e-giving platforms:
Branding. Most allow you to put your own brand on their platform
Mobile phone optimized. Most platforms can be accessed through the web browsers on mobile devices; some platforms offer their own mobile app. Optimized platforms work great as a link off of your mobile website.
social media integration. Some platforms offer apps or plugins for Facebook and other social media platforms, allowing donors to give without leaving those sites
Security. Make sure they offer at least 256-bit SSL encryption. You'll know if you see "https" in the web address instead of just "http".
Recurring donations. Just about every platform offer this now.
Financial reports. Most platforms allow you to customize and download reports for your treasurer, for accounting purposes, and for the individual donor, for tax purposes
Merchant Account. E-Giving platforms are the middleman between the donor and the merchant account provider, which processes the donation and delivers it to your church's bank account. Many e-giving platforms offer a merchant account of their choice, but allow you to bring your own.
ACH Processing. For an additional fee, usually charged by the merchant account provider, some platforms allow donors to use their "ACH" bank information instead of their debit or credit cards, which saves your church the card-processing transaction fees.
Giving Kiosks. Many are offering onsite giving options, like "giving kiosks" or iPad stations, and other physical platforms that can be placed in the church lobby, allowing donors to swipe their credit cards or donate at a computer.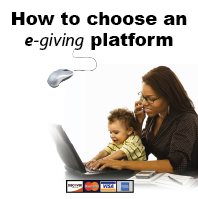 This chart lists some popular e-giving platforms and compares the general features you should be looking for (features and costs subject to change; for a more complete and up-to-date and accurate analysis of each product, visit their website or contact them via phone or email):

| | | | | | |
| --- | --- | --- | --- | --- | --- |
| E-giving Platforms | Web-enabled? | Smart phone app? | Social media integration? | Onsite giving option? | Cost |
| Clover Donations | YES | .NO | NO | NO | $0 setup fee plus 1% per transaction |
| Easy Tithe | YES | YES | YES | NO | $0 setup fee plus $49/month for web and mobile plans; |
| FlowPay | YES | YES | NO | YES | 1.8% per monthly donations (they provide the merchant account) |
| Giving Fuel | YES | NO | YES | NO | $29-$79 per month |
| SecureGive | YES | YES | YES | YES | $250 setup fee plus $49/month for web and mobile plans |
| SimpleGive | YES | NO | NO | YES | $0 setup fee plus $29/month (they provide the merchant account) |
Comments